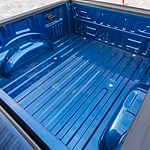 Ford takes pride in producing trucks known for being tough. The heavy-duty Ford F-150 might be among the toughest pickup trucks bearing the company's name. As far as tough design and engineering go, the F-150 displays some impressive features.
The sight of the aluminum-alloy body and bed displays the vehicle's toughness. When potential buyers learn the allow is a military-grade one, they may feel surprised. The high-strength steel frame complements the bed and body, adding more physical power. And even with all that powerful metal, the Ford F-150 rides smoothly.
The incredible metal provides resistance to dents, which helps preserve aesthetics. The metal also supports the towing capabilities, which are in the 13,000-lb range. The electronic shift-on-the-fly (ESOF) allows drivers to jump to 4WD when necessary, a help during off-road adventures.
The time has come to take a Ford F-150 out on a test drive. At All Star Ford, we want to help any would-be buyers do so.