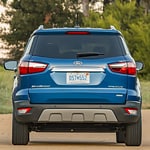 Extra cargo room, additional passenger seating and admirable fuel efficiency are just a few reasons why Pittsburg consumers love Ford crossovers. The Ford EcoSport is a newcomer to the realm of crossovers for this automaker, and its amenities have received a warm welcome from buyers.
With a cabin that has been designed specifically to enhance passenger comfort and convenience, riding in a Ford EcoSport is an enjoyable experience. Some of the most favorite and inclusive amenities are present in the EcoSport's higher trim levels. These include a heat steering wheel, premium leather seating and a B&O Sound System complete with 10 speakers. Other favorite amenities include durable and stain resistant Active X seat material, a Sync 3 Navigation System and a plethora of outlets of varying capacities.
Come into All Star Ford to experience and convenience, connectivity and comfort of the Ford EcoSport today.